Take your business to the next level with a mentor from the best & brightest in British business
Have you considered the benefits that mentoring can have to accelerate your business growth? We are pleased to offer you the opportunity to apply for the Be the Business, Mentoring for Growth programme delivered in partnership with the London Growth Hub.
This 12 month programme offers London based SMEs access to a business leader from one of the best names in UK business, including Siemens, GSK and John Lewis Partnership at no cost to your business. Leverage the experience and practical know-how of a mentor who has been carefully matched with you to support your growth and development ambitions.
---
How does the programme work?
Collaborate.
Our mentors are there to coach and advise you. They will meet with you at least once a month for 12 months, including an onsite visit to get a realistic view of how your business works.
Learn.
We will connect you with a business leader who has the right experience to help you meet your goals. Gain insight into industry leading methodologies and frameworks from high profile British businesses, develop your own skills and access best practice.
Take action.
Use your mentor's advice and guidance to implement the changes that will make a real difference to your bottom line.
---
Is it suitable for my business?
The following pre-requisites qualify you for the programme:
You are in a decision-making position within your business

Your business has 20 full time employees and/or your business turnover is at least £2 million per annum

You have high growth or turnaround ambitions for your business
---
How do I join the programme?
Please note that applications have now closed.
Be open and honest about where your business is, what you are trying to achieve and your challenges.
---
The next steps…
Interviews. In late September, 45 businesses will be invited for an interview where we aim to get a sense of your personality to ensure we understand both your challenges and opportunities.
Mentor matching. Be the Business will use their Mentoring for Growth database to source a mentor and interview them, ensuring their skillset and experience matches your requirements.
Meet your mentor. The 30 best-suited businesses will be introduced to their Mentoring for Growth mentor and will have 12 months to collaborate – We'll provide some tips for your first meeting to help the conversation flow.
If you have growth potential, we'd love to hear from you! Please click here to apply by the 28 September.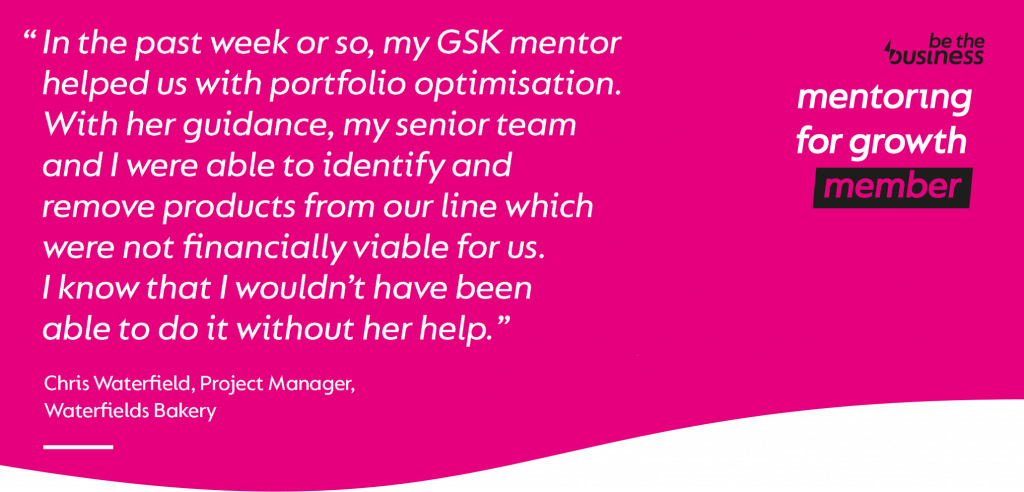 Mentoring for Growth programme delivered by Newable in partnership with the London Growth Hub